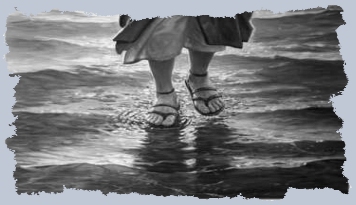 The problem:
Adam,
the first human in God's creation had fallen from the grace of God by sinning and threw the world into a cursed state.
The world was now under the wrath of God.
The punishment was death and eternal separation from God
(Genesis 2:17)(Romans 6:23).
Man would no longer live forever and now was separated from God. The decendents of Adam and Eve would carry the "Sin Nature" that is we would fall short of God's glory (Romans 3:23)(Romans 5:12). No matter what man did, no amount of sacrificies, no amount of good works could restore the relationship that man once had with God (Ephesians 2:8-9)(Galatians 2:16).
The plan:
God spoke creation into exsistance and could have spoke creation out of existence as the result of Adam's trespasses (sin) (Genesis 3:1-27). God instead put into place a plan of redemtion because He "so loved the world" (John 3:16).
Yeshua is seen as the "second Adam" (1 Corinthians 15:45-49). There are significant differences as
Adam was from dust but Yeshua came from Heaven; Adam brought sin into the world but Yeshua was sinless. Adam was separated from God but Yeshua would be the path back to God (John 14:6).
Through the works of Yeshua man could transistion from wordly beings to spiritual beings. Adam brought death through sinning but Yeshua would bring life through resurrection (1 Cornthians 15:21-22; 56-57).
Into Action:
The birth of Yeshua was God coming to earth as a man, His Son. Through birth Yeshua received a human body with a sinless human nature.
Yeshua would put into place the events that would execute
God's will and
save us from God's wrath (John 6:38). To do so Yeshua would accomplish several goals while on earth:
Was baptized starting His ministry(3:13-17);
Gathers the Apostiles, establishes the foundation of His church (Matthew 10:1-15; 16:8);
Identify Himself as the Son of God, God incarnated (John 8:58-59)(Matthew16:15-17);
Bear witness to the Truth (The Gospel)(John 17:14-17)(Luke 4:42-43);
Become High Priest in order to intercede and advocate for the saved (Hebrews 4:14-16; 7:25-26)(1 John 2:1);
Make judgement (John 5:30)(John 9:39);
Expose Jewish authority as hipocracy and provoke them leading to His cruxifiction (Luke 11:37-54)(Matthew 23:1-5;13,16,24)(Luke 22:66-71)
(Matthew 27:1-2);
Save the lost (Luke 19:9-10) (Romans 8:3-4)(Mark 10:45);
Reconciliation by bearing all sin; to take the punishment for all of mankind; the final sacrifice (2 Corinthians 5:18-19;21);
Victory over sin, death and Satan (Romans 6:14;23)
(John 11:25)
(Matthew 4:1-11)(1 Corithians 15:54-57)
(Hebrews 2:14);
To separate legalistic obedience (Mosaic Law) with gracious obedience (Law of Grace)(John 1:17)(Romans 6:14)(Galatians 2:21).
To sumerize Yeshua's life and purpose it can be listed as four stages:
Birth - God as man on earth as the second Adam without sin (1 Corinthians 15:45-49)
Ministry - Establishing the Truth (The Gospel) and the foundation of His Church (Luke3:23)(Ephesians 4:11-13)
Cruxifiction (death) - victory over sin; the last sacrifice as payment (redemption) for all sin (Hebrews 7:26-28)
Resurrection - victory over death and Satan giving THE pathway for forgiveness, salvation and eternal life with God for those who believe (Romans 4:25; 8:11)(John 11:25)(1 Corinthians 15:54-55)
Yeshua's perfect works restored us as "righteous" in the eyes of God and worthy of His forgiveness and fellowship! (1 Peter 3:18)